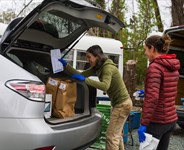 LOCAL FOOD HUB'S partner farms represent the bounty and diversity of the Virginia foodshed. Some operate 100 acre farms, others less than five acres. They grow and produce a range of high-quality, delicious products. Our drive-through markets are a way of supporting farmers and helping the community access local food during the COVID-19 crisis. They offer a diverse array of products from a group of our partners.

Wednesday market includes Blue Ridge Bucha, Caromont Farm, Chiles Peach Orchard, Double H Farm, Free Union Grass Farm, Little Hat Creek Farm, Little Wicomico Oyster Company, Lone Light Coffee, Radical Roots Farm, Sussex Farm, The Elysium Honey Company, The Pie Chest

Friday market includes Agriberry, Bellair Farm, Clover Top Creamery, Gathering Threads, good phyte foods, Jam According to Daniel & Fairweather Farm, Mariebette Cafe and Bakery, Millstream Farm, Mountain Culture Kombucha, Pachamama Peru, Sweet Greens Farm, Wandering River Farm, Whisper Hill Farm read more...